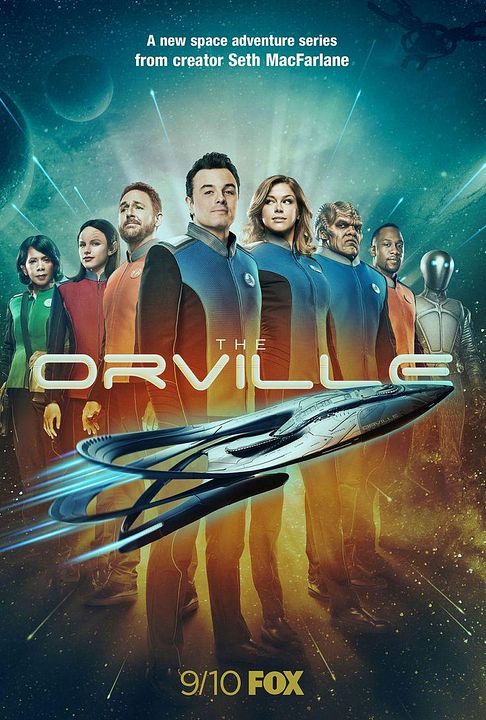 The Orville

2. sezon onayını aldı
Devamı...
© Fox
House of Cards bilmecesi son buluyor! Altın Küre ödüllü Ray Donovan için yolun sonu göründü mü? Ailenizin dahisi Sheldon Cooper'ın çocukluğunu anlatan Young Sheldon gönülleri fethetmeye devam edebilecek mi? Peki ya The Good Doctor?
Kimi dizi için veda vakti gelirken kimisi de yeni sezon haberiyle hayranlarının yüzünü güldürdü. Güncellenmeye devam edecek televizyon rehberimizde hangi dizinin hangi tarafta olduğuna göz atabilirsiniz!
Devam Edenler
| | | |
| --- | --- | --- |
| Dizi | Kanal | Yenilenen Sezon |
| The Expanse | Amazon Prime Video | 4 |
| Krypton | SyFy | 2 |
| Step Up : High Water | YouTube Red | 2 |
| The Marvelous Mrs. Maisel | Amazon Prime Video | 3 |
| Siren | Freeform | 2 |
| Blacklist | NBC | 6 |
| L'Arme fatale | FOX | 3 |
| Gotham | FOX | 5 |
| Splitting Up Together | ABC | 2 |
| For The People | ABC | 2 |
| American Housewife | ABC | 3 |
| Speechless | ABC | 3 |
| Fresh Off The Boat | ABC | 5 |
| Black-ish | ABC | 5 |
| Station 19 | ABC | 2 |
| Murder | ABC | 5 |
| Les Griffin | FOX | 17 |
| Bob's Burgers | FOX | 9 |
| Les Simpson | FOX | 30 |
| Perdus dans l'espace | Netflix | 2 |
| Instinct | CBS | 2 |
| Esprits Criminels | CBS | 14 |
| Elementary | CBS | 7 |
| Agents of S.H.I.E.L.D. | ABC | 6 |
| Brooklyn Nine-Nine | NBC | 6 |
| Chicago Med | NBC | 4 |
| Chicago Fire | NBC | 7 |
| Chicago Police Department | NBC | 6 |
| New York Unité Spéciale | NBC | 20 |
| Rick et Morty | Adult Swim | 4 |
| Blindspot | NBC | 4 |
| Star | FOX | 3 |
| Outlander | Starz | 5 et 6 |
| AP Bio | NBC | 2 |
| Santa Clarita Diet | Netflix | 3 |
| The 100 | CW | 6 |
| Good Girls | NBC | 2 |
| The Resident | FOX | 2 |
| Empire | FOX | 5 |
| The Handmaid's Tale | Hulu | 3 |
| Westworld | HBO | 3 |
| Billions | Showtime | 4 |
| Jack Ryan | Amazon Prime Video | 2 |
| Search Party | TBS | 3 |
| Grey's Anatomy | ABC | 15 |
| This Close | Sundance Channel | 2 |
| Genius | National Geographic | 3 |
| NCIS: Nouvelle-Orléans | CBS | 5 |
| NCIS: Los Angeles | CBS | 10 |
| MacGyver | CBS | 3 |
| Madam Secretary | CBS | 5 |
| Hawaii Five-0 | CBS | 9 |
| Bull | CBS | 3 |
| Blue Bloods | CBS | 9 |
| NCIS | CBS | 16 |
| On My Block | Netflix | 2 |
| Jessica Jones | Netflix | 3 |
| Silicon Valley | HBO | 6 |
| Barry | HBO | 2 |
| Alexa & Katie | Netflix | 2 |
| Mom | CBS | 6 |
| Deep State | FOX | 2 |
| Riverdale | The CW | 3 |
| Supernatural | The CW | 14 |
| Arrow | The CW | 7 |
| Flash | The CW | 5 |
| Supergirl | The CW | 4 |
| Legends of Tomorrow | The CW | 4 |
| Black Lightning | The CW | 2 |
| Jane the Virgin | The CW | 5 |
| Crazy Ex-Girlfriend | The CW | 4 |
| Dynastie | The CW | 2 |
| Brockmire | IFC | 3 & 4 |
| SEAL Team | CBS | 2 |
| S.W.A.T. | CBS | 2 |
| Strike Back | Cinemax | 6 |
| Au fil des jours | Netflix | 3 |
| The Sinner | USA Network | 2 |
| Will & Grace | NBC | 11 |
| Power | Starz | 6 |
| The Magicians | SyFy | 4 |
| Lore | Amazon Prime Video | 2 |
| Grace et Frankie | Netflix | 5 |
| Happy! | SyFy | 2 |
| Grown-ish | Freeform | 2 |
| 9-1-1 | Fox | 2 |
| The Tick | Amazon | 2 |
| Midnight, Texas | NBC | 2 |
| Superstore | NBC | 4 |
| High Maintenance | HBO | 3 |
| Crashing (US) | HBO | 3 |
| Andi | Disney Channel | 3 |
| No Activity | CBS All Access | 2 |
| Harry Bosch | Amazon Prime Video | 5 |
| The Chi | Showtime | 2 |
| Suits | USA Network | 8 |
| Liar | Sundance Channel | 2 |
| Clique | BBC 3 | 2 |
| Stan Against Evil | IFC | 3 |
| American Dad ! | TBS | 14 & 15 |
| Marvel's Runaways | Hulu | 2 |
| Future Man | Hulu | 2 |
| Young Sheldon | CBS | 2 |
| The Gifted | FOX | 2 |
| Van Helsing | SyFy | 3 |
| Larry et son nombril | HBO | 10 |
| Mr. Robot | USA Today | 4 |
| The Punisher | Netflix | 2 |
| Shooter | USA Network | 3 |
| SMILF | Showtime | 2 |
| The Good Place | NBC | 3 |
| You're the worst | FXX | 5 (qui sera la dernière) |
| StartUp | Crackle | 3 |
| Shameless | Showtime | 9 |
| The Orville | FOX | 2 |
| Preacher | AMC | 3 |
| Big Mouth | Netflix | 2 |
| Ray Donovan | Showtime | 6 |
| Star Trek: Discovery | CBS All Access | 2 |
| Casual | Hulu | 4 (qui sera la dernière) |
| Better Things | FX | 3 |
| Salvation | CBS | 2 |
| Alone Together | Freeform | 2 |
| Mr. Mercedes | Audience Network | 2 |
| Ransom | CBS | 2 |
| Raven's Home | Disney Channel | 2 |
| The Bold Type | Freeform | 2 & 3 |
| Marlon | NBC | 2 |
| Frontier | Discovery | 3 |
| The Deuce | HBO | 2 |
| The Guest Book | TNT | 2 |
| People of Earth | TNT | 3 |
| Wrecked | TNT | 3 |
| Vikings | History | 6 |
| I'm Dying Up Here | Showtime | 2 |
| Veep | HBO | 7 (qui sera la dernière) |
| Killjoys | SyFy | 4 & 5 (dernières saisons de la série) |
| | | |
| --- | --- | --- |
| Dizi | Kanal | Son Sezon |
| The Arrangement | E! | 2 |
| Roseanne | ABC | 10 |
| Code Black | CBS | 3 |
| L.A. to Vegas | FOX | 1 |
| Falling Water | USA Network | 2 |
| The Last Ship | TNT | 5 |
| Marvel's Inhumans | ABC | 1 |
| The Crossing | ABC | 1 |
| Deception | ABC | 1 |
| Kevin (Probably) Saves the World | ABC | 1 |
| Alex, Inc. | ABC | 1 |
| Ten Days in the Valley | ABC | 1 |
| Great News | NBC | 2 |
| Rise | NBC | 1 |
| The Brave | NBC | 1 |
| Superior Donuts | CBS | 3 |
| Kevin Can Wait | CBS | 2 |
| L'Exorciste | FOX | 2 |
| Lucifer | FOX | 3 |
| Designated Survivor | ABC | 2 |
| Quantico | ABC | 3 |
| Scorpion | CBS | 4 |
| Hap and Leonard | Sundance TV | 3 |
| Brooklyn Nine-Nine | FOX | 5 |
| The Last Man on Earth | FOX | 4 |
| The Mick | FOX | 2 |
| Valor | The CW | 1 |
| Life Sentence | The CW | 1 |
| The Path | Hulu | 3 |
| Ghost Wars | SyFy | 1 |
| Ash vs Evil Dead | Starz | 3 |
| Seven Seconds | Netflix | 1 |
| Taken | NBC | 2 |
| Broad City | Comedy Central | 5 |
| Mozart in the Jungle | Amazon | 4 |
| Everything Sucks! | Netflix | 1 |
| Shades of Blue | NBC | 3 |
| Harley, le cadet de mes soucis | Disney Channel | 3 |
| Beyond | Freeform | 2 |
| Flynn Carson et les nouveaux aventuriers | TNT | 4 |
| Wayward Pines | FOX | 2 |
| Les chroniques de Shannara | Spike TV | 2 |
| Disjointed | Netflix | 1 |
| Shut Eye | Hulu | 2 |
| Dice | Showtime | 2 |
| Damnation | USA Network | 1 |
| Lady Dynamite | Netflix | 2 |
| Chance | Hulu | 2 |
| Good Girls Revolt | Amazon | 1 |
| The Mayor | ABC | 1 |
| The Fosters | Freeform | 5 |
| White Famous | Showtime | 1 |
| Graves | Epix | 2 |
| Dirk Gently, détective holistique | BBC America | 2 |
| Wisdom of the Crowd | CBS | 1 |
| Living Biblically | CBS | 1 |
| 9JKL | CBS | 1 |
| Still The King | CMT | 2 |
| Nashville | CMT | 6 |
| Lopez | TV Land | 2 |
| Rock Academy | Nickelodeon | 3 |
| Nicky, Ricky, Dicky & Dawn | Nickelodeon | 4 |
| Difficult People | Hulu | 3 |
| Me, Myself & I | CBS | 1 |
| Daytime Divas | VH1 | 1 |
| House of Cards | Netflix | 6 |
| Playing House | USA Network | 3 |
| Zoo | CBS | 3 |
| The Night Shift | NBC | 4 |
| Survivor's Remorse | Starz | 4 |
| Odd Mom Out | Bravo | 3 |
| The Mist | Spike TV | 1 |
| The Last Tycoon | Amazon Prime Video | 1 |
| Z: The Beginning of Everything | Amazon Prime Video | 1 |
| Blood Drive | SyFy | 1 |
| Will | TNT | 1 |
| Dark Matter | SyFy | 3 |